Bracket with screw sets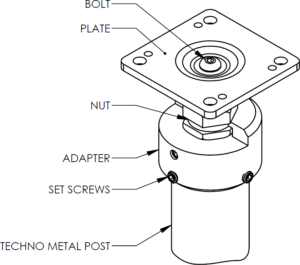 The pile cap, otherwise known as the plate (fixed or adjustable) sits directly on the shaft below it.  The 4 set screws will be bolted and tightened, with a minimum of 15 ft-lb of torque using a hexagonal key.  For the adjustable cap, a fifth screw needs to be installed, to prevent lateral movement of the threaded rod.
Bracket with self-drilling screws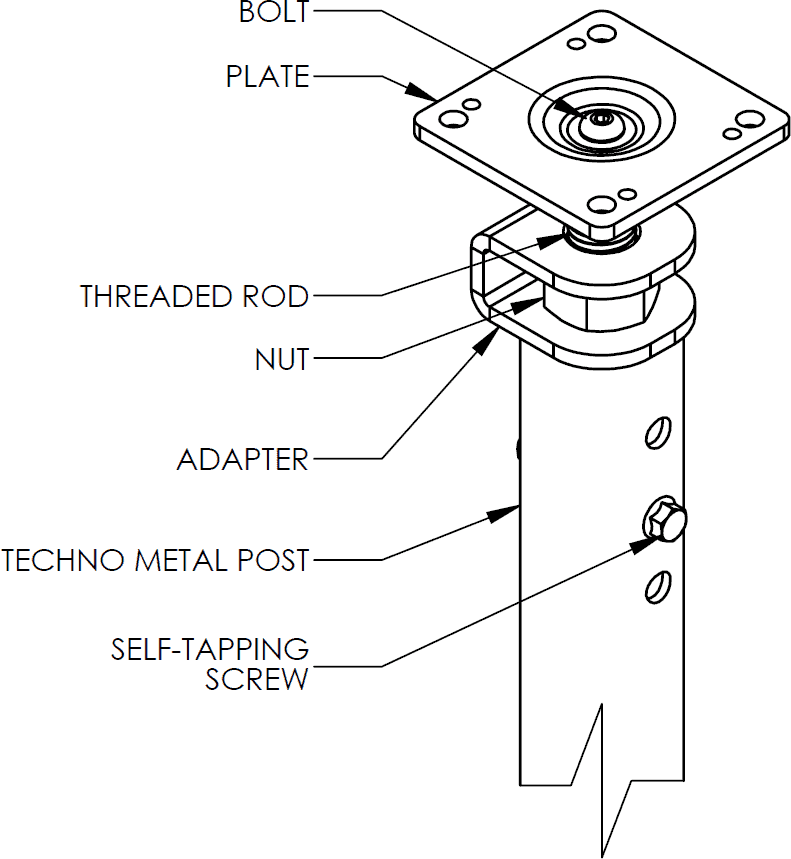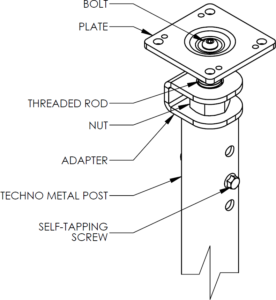 A sleeve is attached to the shaft of the pile using self-drilling screws (a minimum of two or three screws is required, see below).  Techno Metal Post recommends using the following product or equivalent:
UCAN (model TRH 12114K5) self-drilling screws (or any equivalent brand);
Size 12-24;
Length 1.25" (32 mm);
Drill point #5 in galvanized steel.
The allowable uplift resistance varied (lb) between the pile cap and the pile during the laboratory test.
UCAN Self-drilling Screws
Allowable uplift resistance (lb) between the pile cap and the pile
Screw size
Point
Resistance for 2 screws
Resistance for 3 screws
Resistance for 4 screws
12-24
#5
2 000 lb
3 000 lb
4 000 lb
Please note that for deck piles and building additions, we recommend using a minimum of 2 self-drilling screws.  For piles supporting a structure with a roof and no floor (carport, pergola, etc.), we recommend using a minimum of 3 self-drilling screws.  The connection of the supported infrastructure may limit the uplifting force.
The use of an adjustable pile cap must be avoided for free-standing structures with a roof (carport, pergola, etc) given the presence, of greater lateral and uplift loads.